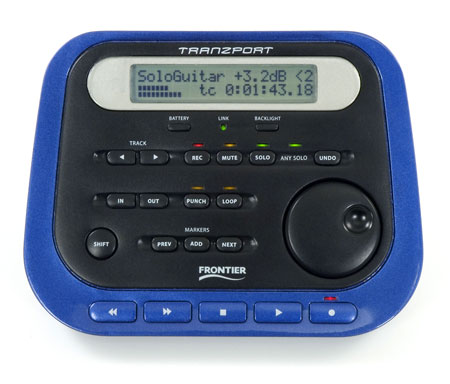 The TranzPort is a beautiful thing. Most of its functions are obvious, but holding down the shift key even provides access to level adjust using the data wheel. It's biggest and coolest benefit is that it's RF 2.4ghz wireless. No line of sight required, and its still 2-way and has the LCD display - Yet even with the backlight on it uses an absurdly small amount of battery juice.
Source : Prime/rob @ The Guitar Matrix - http://guitarmatrix.proboards.com
Frontier also makes a single fader surface - AlphaTrack - Though truth be told - Its not as good of a deal when compared to the Behringer - It is an option if you 'need' to have an LCD screen on the CS.... Note: Its not wireless like TranzPort.
Link to Behringer Article.
Source : Prime/rob @ The Guitar Matrix - http://guitarmatrix.proboards.com