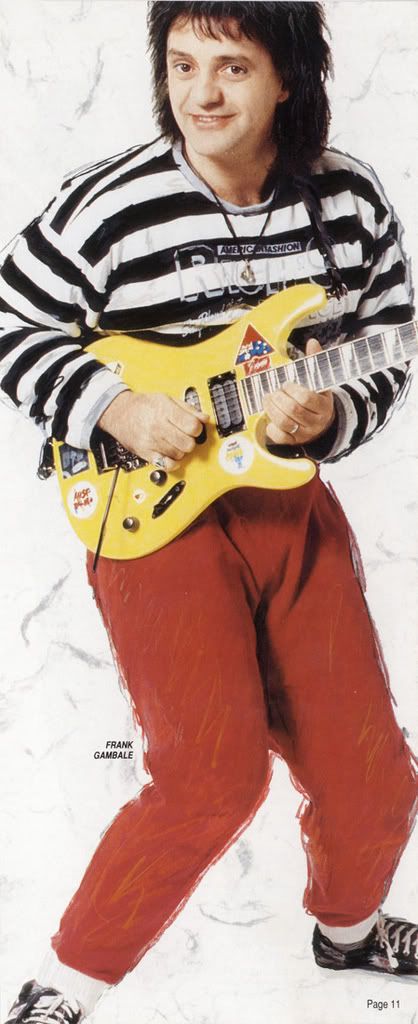 Jazz/Fusion Guitarist EXTRAORDINAIRE, Frank Gambale became intrigued with Ibanez when he discovered the S540LTD around 1986. He became an advocate for Ibanez and started to work with them on a custom Signature model. This Signature S premiered in 1991 The Frank Gambale Model or FGM series.
Frank's Signature S series FGM remained with Ibanez up to 1998. The FGM series went through only four permutations, the FGM100/FGM200 then FGM300 and finally the FGM400 model. Seven short years. By 1999 all that appeared in the Ibanez USA Catalog was a picture of Frank playing one of his FGM400 models. There was no listing nor mention of the FGM series that year.
Source : fretrunr @ The Guitar Matrix - http://guitarmatrix.proboards.com
We will attempt to contact Frank personally for his take on why the love affair between him and Ibanez ended in 1998. Franks customizations to the S model, remain to this day, to have produced one of THE FINEST S series Ibanez has ever offered. These FGM series guitars are treasured Guitars that are somewhat hard to come by, as any guitarist who owns one, seldom parts with it. The FGM series remains the ULTIMATE S model for playability/sleekness/sound and WOW factor. Frank is THE MASTER of Sweep Picking. He is still playing & recording. He remains one of the finest guitarists and teachers of guitar in the world.
1998 Last year for the FGM (USA)


1999 All that appears in the Ibanez USA catalog is this picture of Frank playing an FGM400. There is no FGM offered by Ibanez from 1998 on. The collaboration that produced one of THE FINEST Ibanez S series of guitars EVER, is over!
Source : fretrunr @ The Guitar Matrix - http://guitarmatrix.proboards.com